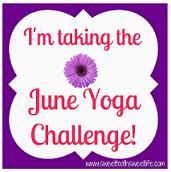 Time flies! And I have to make a little confession.
The facts:
I have to be honest with you. I wish I could give you a neat little list with all the different kinds of yoga I have been trying this week. But I haven't done any yoga since last my last post. I feel slightly embarrassed to admit this, but since I'm letting you in on my life, and I promised you to keep you updated about this month's challenge, I'm letting you know: I have been lazy.
Some inspiration/information:
My thoughts:
Of course I cannot give you any thoughts on yoga I didn't do. But since I have been trying out all sorts of classes these last few weeks I can give you some information about the different kinds of yoga I encountered.
First let me tell that before starting this challenge I already went to a few yoga classes:
Some kind of regular yoga. This yoga probably had a name, but I cannot remember what it was. It was a long time ago and one thing I do remember is the fact that our teacher was a bit off and I found the class incredibly boring. As you can imagine, this was a one-time class.
Ashtanga Yoga (did this on a regular basis at my gym a few years ago): I loved this form of yoga. I like to feel like I'm working out, and ashtanga definitely made my muscles burn!
Iyengar Yoga: I did this when I was too tired to do ashtanga. With iyengar we used props like belts, blankets and foam blocks to make sure we performed our asanas correctly.
The last few weeks, even though this week wasn't very productive, I felt like a girl on a mission. I started with a lot of questions. What will be in it for me? What will be hard? What kind of yoga would be my favorite? And the most important question: will I keep it up after the challenge.
I tried different forms of yoga as well as different studios and different teachers:
Hatha Yoga: Not as intense as ashtanga, but at the same time not at all boring. It's perfect to add to a medium-high workout schedule.
Power Yoga: A bit like ashtanga. Great to use as an alternative for my normal workout. But a bit too much if I want to add it to my usual workouts.
Mindfulness Yoga: Not for me. I'd rather keep my yoga and my meditation separated.
Sivananda Yoga: A form of hatha. We started the session with a lot of ohm-ing, which creeps me out a bit. I guess I'm just not that type of yoga girl. Also the fact that one of my fellow students snored like a trucker during the whole 12-minute meditation session was not something that made me wanna go to that class again soon…
Final summary:
I definitely will be keeping yoga in my schedule. I have thought a lot about it and I think for me it'll work best if I swap one of my regular workouts with a more intense form of yoga, like ashtanga or power yoga.
Another thing: yoga at home is not my thing. Just as working out at home is not my thing. I like going somewhere and having to stay there and work for a certain amount of time. I also like how at a studio chances are you will be learning a lot more than when you are watching some video on your computer or tv. Sure you can learn from that, but I'd like to be able to ask questions and have an instructor watching and correcting my moves.
And last but not least: I do like to incorporate some meditation. But that's the one thing I'd rather do at home.
How about you? What's the most annoying / strange / funny thing you experienced during a yoga class?